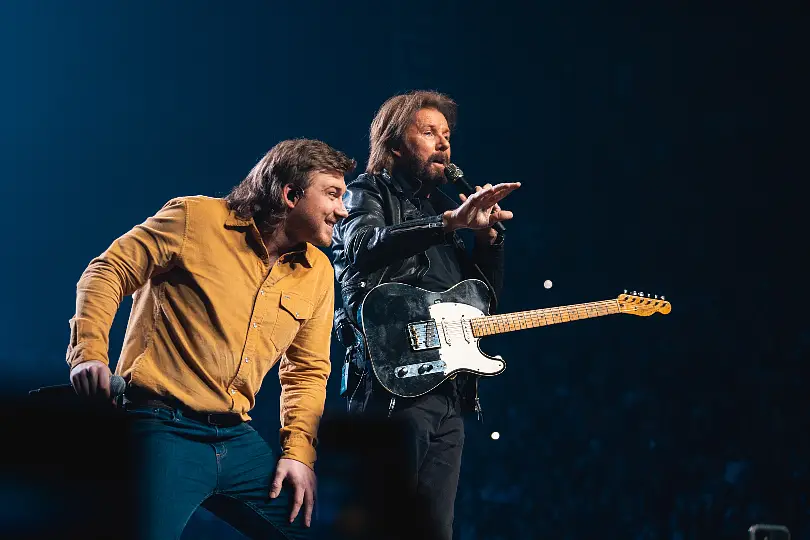 Jimmie Allen, Icon Ronnie Dunn and ERNEST Among Night 1 Surprises
Larry Fleet, HARDY Special Guest in Set Illustrating Roots and Respect
NASHVILLE, Tenn.– Clad in a brown corduroy pearl-snap shirt, jeans and Tecovas–Morgan Wallen took to the stage at exactly 9:02 pm, his usual stage-time on his 57-show Dangerous Tour trek, a sign of the singer/songwriter's anticipation for every opportunity he gets to perform live. Rising from the stage seated at his Nord Grand piano performing his most-recent No. 1 "Sand In My Boots," the East Tennessean showed how much music moves him as he kicked off the first-of-26-songs on night one-of-three at the Music City Arena
Introducing himself after "Up Down," Wallen, taking it all in, shared, "I really appreciate you being here tonight. I got a lot of people I care about here, a lot of people who believed in me for a long time are in the building tonight… this is really special to me."
The ACM Album of the Year award-winner worked the 2,400-sq. foot stage, jockeying between his Taylor and Gibson in hand, delivering "Silverado for Sale," "7 Summers," "Country A$$ Shit" and "Wonderin' Bout The Wind," lamenting about the day he wrote the latter on his back porch, watching the day go from beautiful to ugly. I don't know where the hell it comes from /Got no idea where it goes when it leaves / And when it's here, it's here, and when it's gone, it's gone.
"It feels like the World Series to me tonight," the baseball player/musician mused before "Chasin' You."
ERNEST surprised the crowd just over halfway through the show as dual flower-adorned mic stands appeared center-stage, taking turns with Wallen on their Top 25-and-climbing "Flower Shops," ending the song with the pair giving their arrangements away to fans in the pit.
Tour opener Larry Fleet then joined to perform his 2020 debut "Where I Find God" which was fitting as the first-of-three songs to take the crowd to church. Country icon Ronnie Dunn then surprised the crowd joining Wallen midway through on "Talkin' Tennessee" from Wallen's debut album If I Know Me. Wallen, pausing, then asked, "Wanna sing another one, Ronnie?" before duetting on the 1992 hit "Neon Moon."
HARDY re-emerged on his Chase McGill and Wallen co-written "He Went To Jared," where the friends and frequent collaborators jubilantly high-fived and clasped hands on stage, signifying a true celebration of being in this moment together.
Directly after "More Than My Hometown," Wallen introduced his final surprise guest at Bridgestone Arena, "Down Home" singer/songwriter Jimmie Allen who walked on stage, mic in hand joining in, Yeah it's, Yes Sir, no ma'am, y'all come back, now / Fighting words if you run my last name down / I ain't ashamed, matter of fact, I'm damn proud / Of the way I talk, y'all. With a combined hometown population of 4,379, the friends relished performing the ode to small town life in front of a crowd more than four times that size.
There were heroes, songwriters, friends and crowd singalongs in addition to intimate moments like on "Cover Me Up" where band member Chris Gladden softly piano-introed Wallen while the at-capacity crowd met them in the moment with their phones up and lights on.
"Thanks Nashville!" Wallen enthused, taking it all in.
Closing the show with an encore of "Whiskey Glasses," the crowd was just as The New Yorker described following its opening shows at Madison Square Garden, "not just a highly entertaining show but a tribal experience."
Remaining 2022 Dangerous Tour stops:
March 17, 2022—Nashville, TN—Bridgestone Arena—HARDY and Larry Fleet
March 18, 2022—Nashville, TN—Bridgestone Arena—HARDY and Larry Fleet
April 14, 2022—Evansville, IN—Ford Center—HARDY and Larry Fleet
April 15, 2022—Charleston, WV—Charleston Coliseum—HARDY and Larry Fleet
April 21, 2022—Corpus Christi, TX—American Bank Center—HARDY and Larry Fleet
April 22, 2022—San Antonio,TX—AT&T Center—HARDY and Larry Fleet
April 23, 2022—Lafayette, LA—CAJUNDOME—HARDY and Larry Fleet
April 28, 2022—Green Bay, WI—Resch Center—ERNEST and Larry Fleet
April 29, 2022—Des Moines, IA—Wells Fargo Arena—ERNEST and Larry Fleet
April 30, 2022—Kansas City, MO—T-Mobile Center—ERNEST and Larry Fleet
May 12, 2022—Denver, CO—Ball Arena—HARDY and Larry Fleet
May 13, 2022—Rapid City, SD—Summit Arena—HARDY and Larry Fleet
May 14, 2022—Billings, MT—First Interstate Arena—HARDY and Larry Fleet
May 27, 2022—Allentown, PA—PPL Center—HARDY and Larry Fleet
June 2, 2022—Charlotte, NC—PNC Music Pavilion—HARDY
June 3, 2022—Raleigh, NC—Coastal Credit Union Music Park at Walnut Creek—HARDY
June 4, 2022—Bristow, VA—Jiffy Lube Live—HARDY
June 16, 2022—Noblesville, IN—Ruoff Music Center—HARDY
June 23, 2022—Gilford, NH—Bank of New Hampshire Pavilion—HARDY
June 24, 2022—Gilford, NH—Bank of New Hampshire Pavilion—HARDY
June 25, 2022—Darien Center, NY—Darien Lake Amphitheater—HARDY
July 2, 2022—Orange Beach, AL—The Wharf Amphitheater—HARDY
July 3, 2022—Orange Beach, AL—The Wharf Amphitheater—HARDY
July 7, 2022—Saratoga Springs, NY—Saratoga Performing Arts Center—HARDY
July 8, 2022—Syracuse, NY—St. Joseph's Health Amphitheater at Lakeview—HARDY
July 21, 2022—Burgettstown, PA—The Pavilion at Star Lake—HARDY
July 30, 2022—Ridgefield, WA—RV Inn Style Resorts Amphitheater—Chase Rice and ERNEST
August 4, 2022—Atlanta, GA—Cellairis Amphitheatre at Lakewood—HARDY
August 5, 2022—Atlanta, GA—Cellairis Amphitheatre at Lakewood—HARDY
August 11, 2022—Mansfield, MA—Xfinity Center—HARDY
August 12, 2022—Hartford, CT—XFINITY Theatre—HARDY
August 25, 2022—Wichita, KS—INTRUST Bank Arena—HARDY
August 26, 2022—Rogers, AR—Walmart AMP—HARDY
August 27, 2022—St. Louis, MO—Hollywood Casino Amphitheatre—HARDY
September 7, 2022—Albuquerque, NM—Isleta Amphitheater—HARDY
September 9, 2022—Nampa, ID—Ford Idaho Center—HARDY
September 10, 2022—West Valley City, UT—USANA Amphitheatre—HARDY
September 15, 2022—Chula Vista, CA—North Island Credit Union Amphitheatre—HARDY
September 16, 2022—Mountain View, CA—Shoreline Amphitheatre—HARDY
September 17, 2022—Wheatland, CA—Toyota Amphitheatre—HARDY
September 24, 2022—Los Angeles, CA—Crypto.comArena—HARDY
September 25, 2022—Los Angeles, CA—Crypto.comArena—HARDY